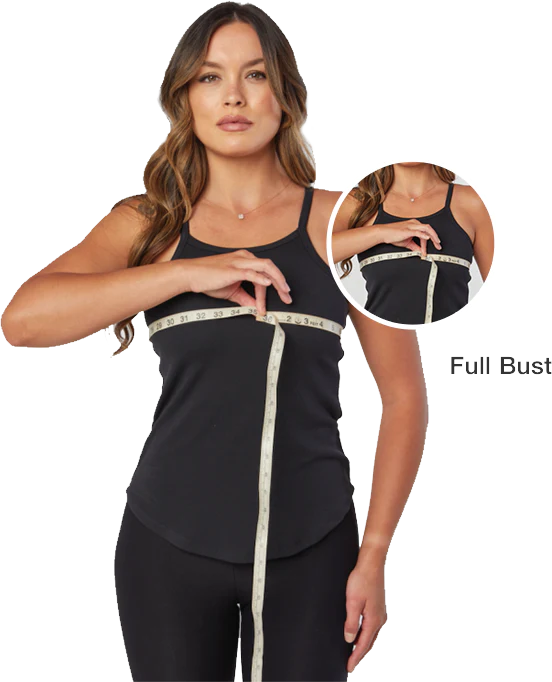 1
Measure your Full Bust
With arms relaxed down at your sides, measure the fullest part of your bust (no push up or sports bras). Keep the tape parallel to the floor.
2
Measure your Under Bust
Measure without a bra on under your bust against your ribcage.
3
Do a little Subtraction
Now that you have your two measurements you can find your bra size.
1. Your Band = your underbust measurement. i.e. 35.5"

2. Your Cup Size = the differnce when you subtract your
FULL BUST minus your UNDERBUST. i.e.

Full bust of 40 inches - Underbust of 35.5 inches = 4"
difference. Using the chart

Beside you can look up your cup size - 4 inch
difference is a D cup. 1" per cup size.

3. Your bra size is 35.5 D - most people with this band
size would wear a 36" band in other bra brands.
HOW TO MEASURE FOR
Bottoms and Dresses
If you are not sure what size bottom you should order or if you would like to check the fit of the dress on your waist and hips, there are two more measurements that will help you select your correct size.
1
Measure your Waist
Measure around your natural waistline, smallest area of your waist or do a side bend and the crease of the bend is your waist.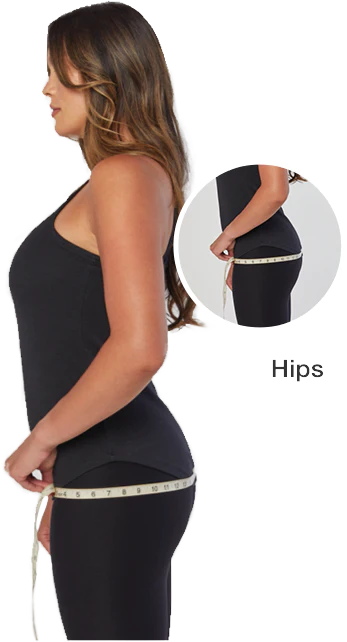 2
Measure your Full Hip
Stand with your feet together, measure around the fullest part of your butt/hips keeping the tape parallel to the floor.
3
Use the Shebird Master Size Chart
Now that you have your Bust, Underbust, Cup, Waist and Hip measurements you can check your measurements against the size chart below to see what SheBird size you should wear and how that compares against the US Standard clothing sizes.
Still not sure?
Please set up a Fit Expert call or email us